What is a value driver?
Een Value Driver is een factor die in belangrijke mate de waarde van de onderneming bepaalt of beïnvloedt. Deze Value Drivers (waarde stuwende factoren) kunnen zowel van financiële als niet-financiële aard zijn, enkele voorbeelden zijn weergegeven in onderstaand figuur.
---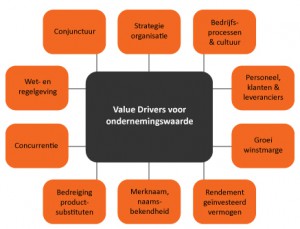 ---
As advisors of Value Drivers Corporate Finance, we like to perform as THE Value Drivers for your company.